My New Year's Resolution was to publish a blog post at least 3 days a week. FAIL. But hey, I'm here today & I have a pretty easy dinner to share. If you know me through the blog or in real life, you know that I have three kids that keep me running constantly from one end of the county to the other with all their extracurriculars. Who has time to plan & execute elaborate meals? Not me. However, I still want to cook decent meals for my family, so quick & easy is where it's at. Who's with me?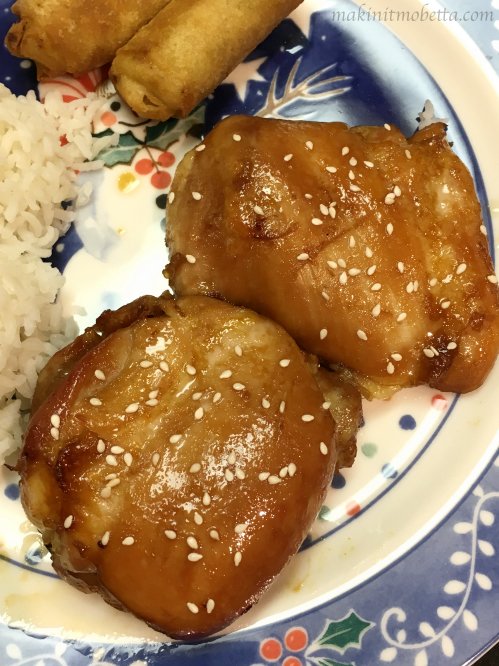 I love Asian inspired food, as does my oldest daughter. I like making it at home because I can make it so much healthier than take-out. Plus, we have one local Chinese place…and it wasn't very good the one time I've been. This Baked Sesame Chicken is fairly simple to make, just takes a few ingredients, and is baked instead of fried – which makes this a healthier (and less messy…I hate frying) option.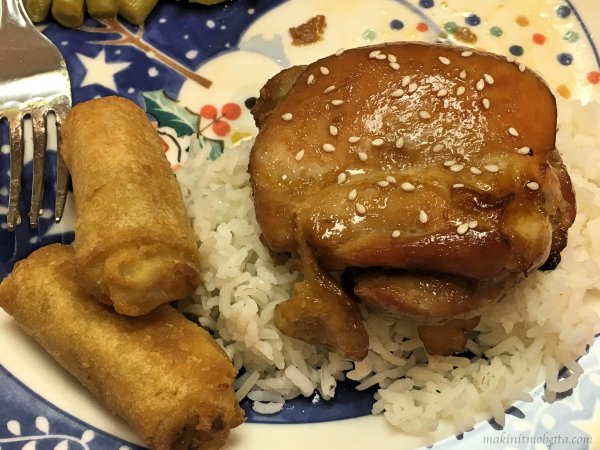 Ingredients
1/4 teaspoon ground ginger
1/4 teaspoon garlic powder
3 tablespoons soy sauce
3 tablespoons water
2 tablespoons sesame oil
1/2 cup brown sugar
3 pounds boneless, skinless chicken thighs (this was 8 thighs for me)
Instructions
Preheat oven to 400 degrees.
Combine the ginger, garlic, soy, water, oil and sugar in a small sauce pan and bring to a boil over medium heat.
Reduce heat and let simmer.
Place chicken in a baking dish and pour sauce over chicken.
Bake for 15 minutes, turn chicken, then bake for an additional 15 minutes or until chicken has cooked through.
*OPTIONAL: once chicken is done, you can baste with sauce and broil for a few minutes to give it a darker color and help caramelize the sauce. You can also thicken the sauce by adding cornstarch per directions on box and heating in a sauce pan.
http://makinitmobetta.com/baked-sesame-chicken/
Recipe adapted from Friday is Cake Night
Even though I would have liked a nice thick sauce to add at the end, I didn't want to use the sauce that the chicken cooked in because it contains so much chicken fat (thighs are fatty), but it is certainly an option (just thicken with cornstarch). I think next time I may reserve some of the sauce, thicken it, and baste it on, under the broiler at the very end. That would give it a sticky sauce, kind of like my Slow Cooked Sticky Chicken. The chicken has a good flavor & is good with rice or sesame noodles. We also had egg rolls, which I normally make from scratch, but these were super convenient!
What's your favorite Chinese food? I want to try some other dishes at home. This Bourbon Chicken is one of my favorites!
I may be linking up at any of the following – (Monday) Little Miss Dexterous, The Tumbleweed Contessa, I Should Be Mopping the Floor, Huckleberry Love (Tuesday) Naptime  Creations, Memories By the Mile, VMG206, The Cookie Puzzle (Wednesday) Sew Crafty Angel, The Newlyweds Pilgrimage, Fluster Buster, Ginger Snap Crafts (Thursday) Joyful Homemaking, Miz Helen's Country Cottage, Lamberts Lately (Friday) Project Inspire, Just Us Four, Diana Rambles, The Better Baker,Close to Home, Walking on Sunshine, Vintage Chic, Daily Dish, The Diary of a Real Housewife, Life with Lorelai (Sunday) My Husband Has Too Many Hobbies