There is something comforting about a nice, hot bowl of soup. Even better when it requires little prep time and can be ready & waiting for you at dinner. This hamburger soup is very hearty, and my version is pretty low carb (so my diabetic hubby can have a huge bowl – this is his favorite soup!) but feel free to add potatoes, corn, carrots, anything you like.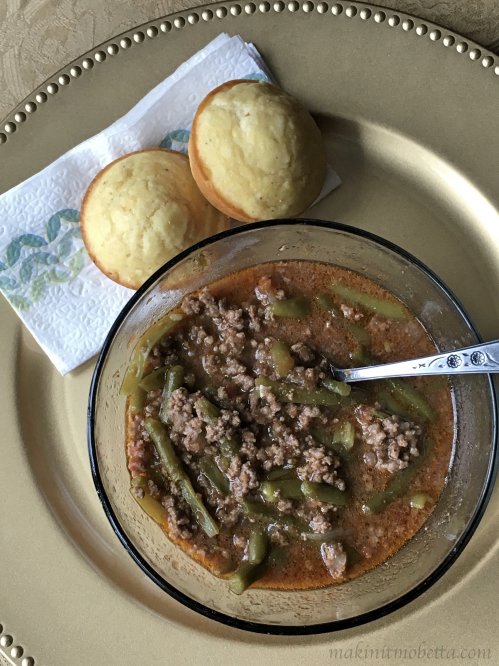 The nice thing about this recipe is that you can use pre-cooked ground beef for a "hands off" meal, or you can add the hamburger raw, allowing it to cook in the broth, but you have to be available to stir and break up the beef as it cooks. You also need to use very lean ground beef for this method, or you will have greasy soup! I've made that mistake, so I've learned to start writing the fat content on my ground beef if I am freezing it raw. However, I prefer to cook large quantities of ground beef in the crock pot, then freeze in 2 pound portions so it's ready for recipes like this.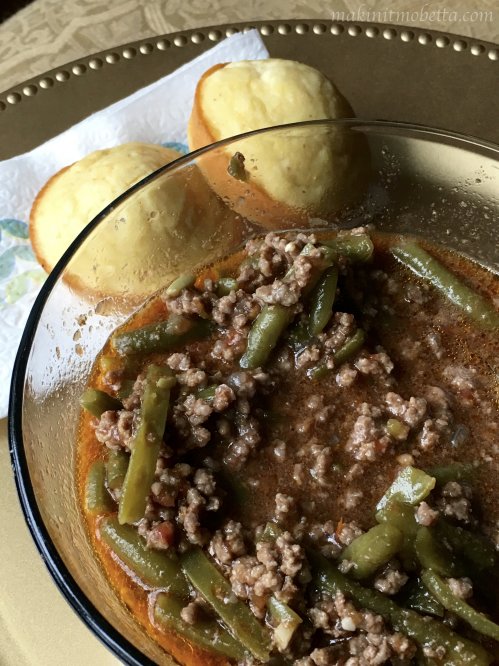 Slow-Cooker Hamburger Soup
Ingredients
2 pounds ground beef*
1 white or yellow onion, chopped
1 (15 oz.) can diced tomatoes, undrained (I like to use Delmonte Diced Tomatoes w/Green Peppers & Onions)
2 cans (15 oz. each) green beans (I drain one, and use the liquid from the other, depends on the amount of broth you like)
2 cups beef broth
1 teaspoon crushed bay leaves (optional)
1/2 teaspoon thyme (optional)
salt & pepper, to taste
*pre-cooked or raw. If adding raw beef, soup will need to be stirred & beef broken up as it cooks.
Instructions
Add all ingredients to slow-cooker.
Cook on low for 8 hours.
Stir before serving, add additional salt & pepper as needed.
http://makinitmobetta.com/slow-cooker-hamburger-soup/
I sometimes add carrots, but as stated earlier, feel free to add any veggies you like. It's also good with rice. I usually have Cornbread Muffins or Copycat King's Hawaiian Bread with it, because the kids and I still love our carbs! (This can also be made on the stove top, but it's just so easy to let it simmer in the crock-pot all day!)
I may be linking up at any of the following – (Monday) Little Miss Dexterous, The Tumbleweed Contessa, I Should Be Mopping the Floor, Huckleberry Love (Tuesday) Naptime  Creations, Memories By the Mile, VMG206, The Cookie Puzzle (Wednesday) Sew Crafty Angel, The Newlyweds Pilgrimage, Fluster Buster, Ginger Snap Crafts (Thursday) Joyful Homemaking, Miz Helen's Country Cottage, Lamberts Lately (Friday) Project Inspire, Just Us Four, Diana Rambles, The Better Baker,Close to Home, Walking on Sunshine, Vintage Chic, Daily Dish, The Diary of a Real Housewife, Life with Lorelai (Sunday) My Husband Has Too Many Hobbies