My New Year's Resolution was to publish a blog post at least 3 days a week. FAIL. But hey, I'm here today & I have a pretty easy dinner to share. If you know me through the blog or in real life, you know that I have three kids that keep me running constantly from one end of the county to the other with all their extracurriculars. Who has time to plan & execute elaborate meals? Not me. However, I still want to cook decent meals for my family, so quick & easy is where it's at. Who's with me?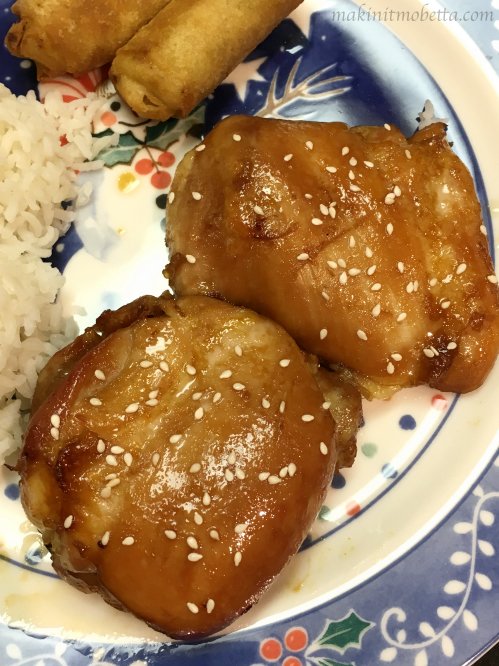 I love Asian inspired food, as does my oldest daughter. I like making it at home because I can make it so much healthier than take-out. Plus, we have one local Chinese place…and it wasn't very good the one time I've been. This Baked Sesame Chicken is fairly simple to make, just takes a few ingredients, and is baked instead of fried – which makes this a healthier (and less messy…I hate frying) option.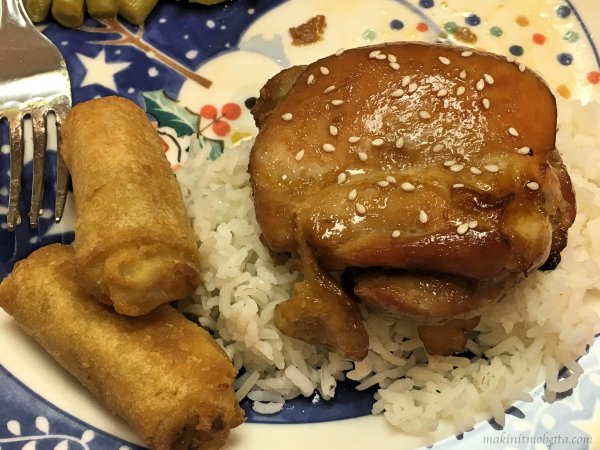 [amd-zlrecipe-recipe:15]
Recipe adapted from
Even though I would have liked a nice thick sauce to add at the end, I didn't want to use the sauce that the chicken cooked in because it contains so much chicken fat (thighs are fatty), but it is certainly an option (just thicken with cornstarch). I think next time I may reserve some of the sauce, thicken it, and baste it on, under the broiler at the very end. That would give it a sticky sauce, kind of like my Slow Cooked Sticky Chicken. The chicken has a good flavor & is good with rice or sesame noodles. We also had egg rolls, which I normally make from scratch, but these were super convenient!
What's your favorite Chinese food? I want to try some other dishes at home. This Bourbon Chicken is one of my favorites!
I may be linking up at any of the following – (Monday) , , , (Tuesday) ,, , (Wednesday) , , , (Thursday) , , (Friday) , , , ,, , , , , (Sunday)