So, I heard there's a big football game coming up pretty soon. And y'all know me, any excuse to make & eat party food. This pizza dip would be great for a Super Bowl party (or any party), for after school snacking, or you can go crazy and eat it for dinner (which is exactly what my husband did one night recently.) It can be a low-carb alternative to traditional pizza, depending on what you eat it with.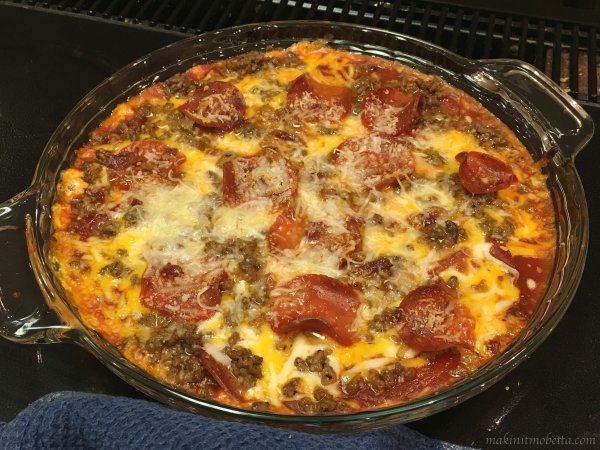 You can also add whatever pizza toppings you like. I made this a 'Meat Lover's' version, full of (turkey) pepperoni, seasoned ground beef, and bacon. Sausage and Canadian Bacon would have been good too.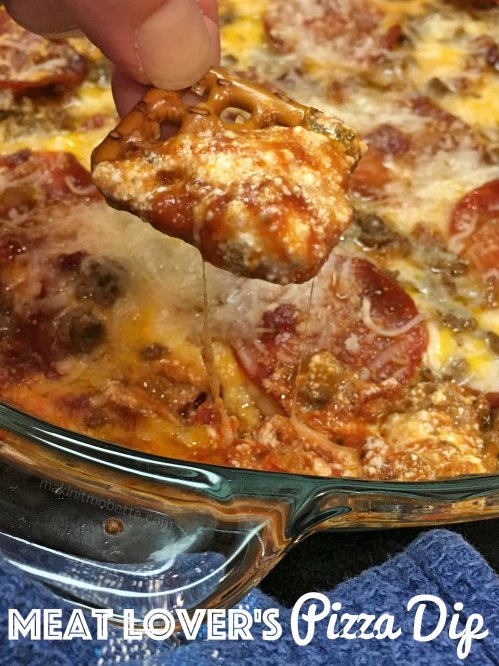 This is a cheesy, creamy dip, that is good with tortilla chips, corn chips, pita chips, toasted French bread, bread sticks, and the list goes on. I wasn't a big fan of the pretzels used in the above pic however. They turned a little soft & I didn't like the texture. Of course, the dip is also good eaten with a spoon!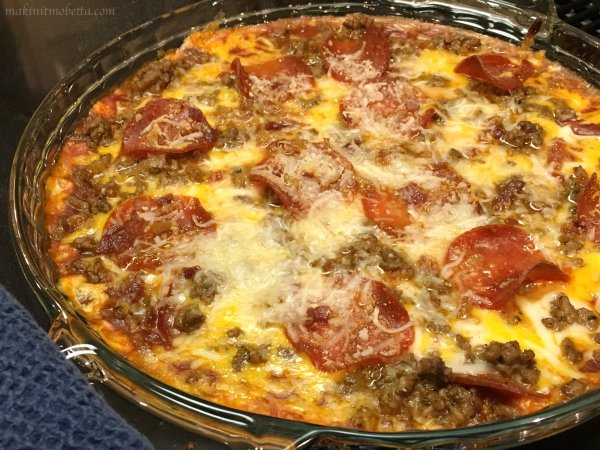 I used:
1 lb ground turkey sausage
1 jar No sugar added Ragu Light Spaghetti Sauce (with lots of added oregano!) – feel free to use your favorite pizza or pasta sauce
1 cup shredded cheddar cheese
2 cups shredded mozzarella cheese
1/2 cup shredded parmesan cheese
turkey pepperoni – to taste
1/2 small diced onion
**These cheese quantities are estimates. My crowd likes LOTS of cheese, so you can adjust it to suit your fancy. I mean taste buds. You can also add mushrooms, peppers, whatever your family likes on a pizza. I've also made this with eggs mixed in with the meat to form a 'base' …more like a traditional pizza. However, since Mr. Three is allergic to eggs, I can't do that anymore.
DIRECTIONS:
Cook your ground turkey and onion together, drain if needed. Place a little sauce on the bottom of your casserole dish (I used a 9×13), dump your turkey/onion on top, add the rest of your sauce, top with cheese, place pepperoni on top. Bake until golden brown and bubbly.
Recipe adapted from and my Pizza Casserole
As you can see, the amounts and ingredients are very versatile. Anything you like on pizza will probably work well in this dip. Feel free to add more or less meat, cheese, and spices.
Will you be watching the Super Bowl? Thought about what food you will be serving? That is the most important part, right?
I may be linking up at any of the following – (Monday) , , , (Tuesday) ,, , (Wednesday) , , , (Thursday) , , (Friday) , , , ,, , , , (Sunday)