I love lots of Asian inspired foods, and I have found that it is relatively easy to make many of my favorite dishes at home. I probably make Baked Egg Rolls at least once or twice a month, and I love Bourbon Chicken and Sesame Noodles. I discovered San-J Tamari Sauce a while back and have been using it ever since, so when they contacted me about trying their new line of Asian Cooking Sauces, I was happy to oblige!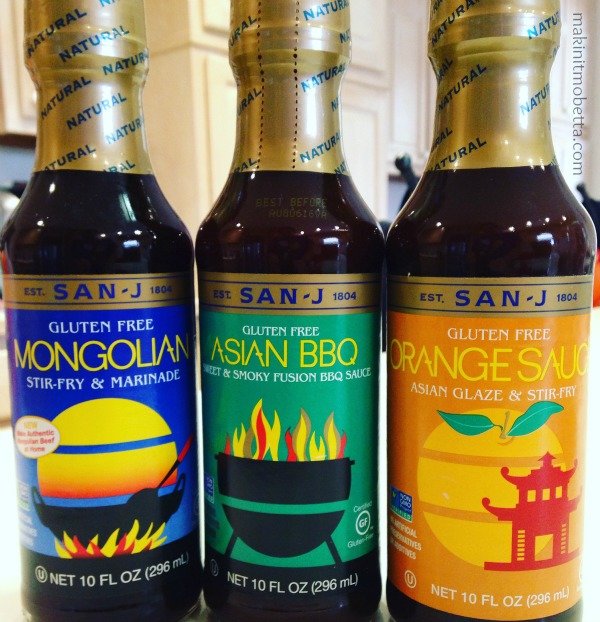 These are the three I chose, but there are available. I'm on a mission to try them all! The first one I used was the Mongolian Stir-Fry & Marinade Sauce. I simply added the sauce to boneless, skinless chicken thighs and froze them. When ready to use, I let the chicken thaw in the refrigerator overnight, which also gave it time to marinate well.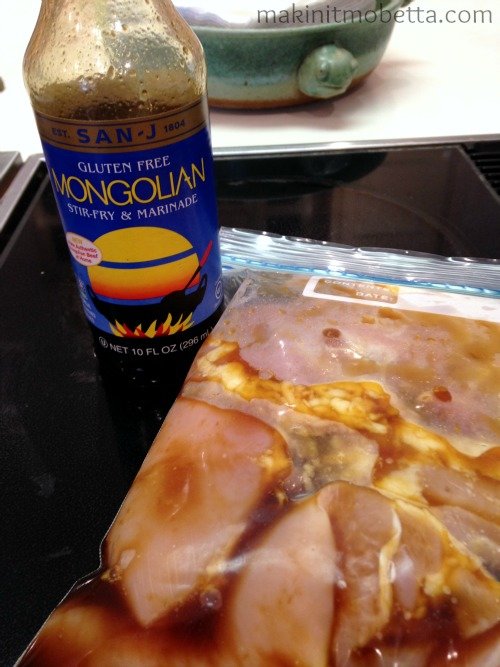 I cooked these on the grill, which is my favorite way to eat chicken thighs. The thighs are great for grilling due to the higher fat content, and they really absorb a lot of flavor from whatever marinade you choose.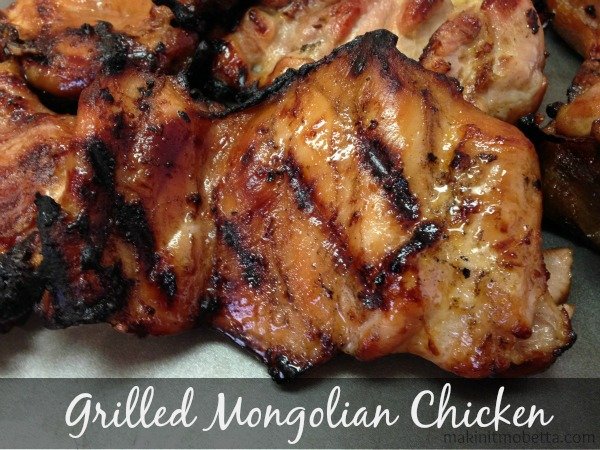 These were juicy and flavorful! I served them over brown rice, with a little added spicy chili paste. So good! I am planning on adapting this Pineapple Chicken into Orange Chicken using the Orange Sauce next. It's my oldest daughter's favorite, so at least I will be guaranteed to make at least one family member happy at the dinner table! Sometimes (most times) it's a struggle. *sigh*
Grilled Mongolian Chicken
Ingredients
2 lbs boneless, skinless chicken thighs
1/2 bottle San J Mongolian Stir-Fry & Marinade Sauce
Instructions
Place chicken in a gallon size Ziploc bag, add sauce.
Seal* and place in refrigerator to marinate (the longer it sits, the more flavor the chicken will absorb. I recommend at least 4 hours.)
Remove chicken, discard extra sauce.
Cook on preheated grill until internal temp is at least 165 degrees F.
Baste with extra sauce while cooking if desired.
*Chicken can also be frozen at this point. Thaw in fridge when ready to cook.
Recipe Management Powered by
http://makinitmobetta.com/grilled-mongolian-chicken/
San-J provided me with samples to review. All opinions expressed are my own.
I may be linking up at any of the following – (Monday) , , , , (Tuesday) ,, , (Wednesday) , , , , (Thursday) , , (Friday) , , , ,, , , ,