So, I heard there's a big football game coming up pretty soon. And y'all know me, any excuse to make & eat party food. This pizza dip would be great for a Super Bowl party (or any party), for after school snacking, or you can go crazy and eat it for dinner (which is exactly what my husband did one night recently.) It can be a low-carb alternative to traditional pizza, depending on what you eat it with.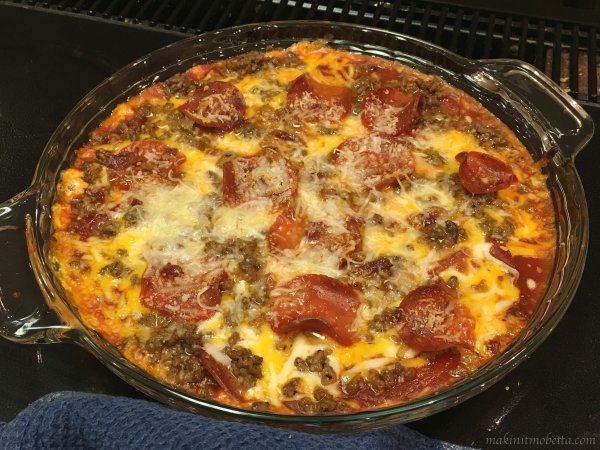 You can also add whatever pizza toppings you like. I made this a 'Meat Lover's' version, full of (turkey) pepperoni, seasoned ground beef, and bacon. Sausage and Canadian Bacon would have been good too.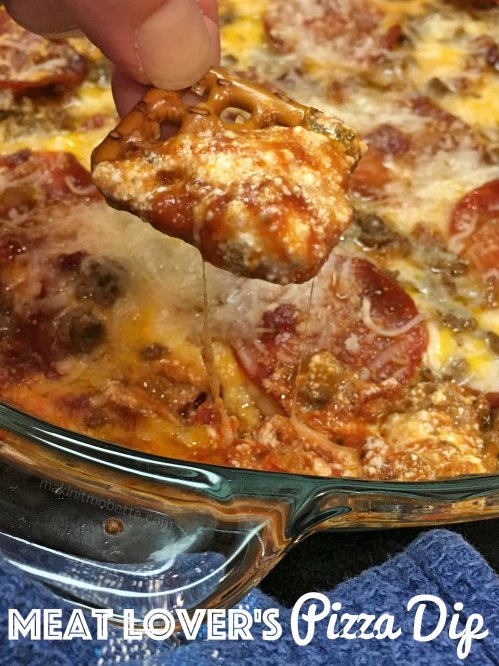 This is a cheesy, creamy dip, that is good with tortilla chips, corn chips, pita chips, toasted French bread, bread sticks, and the list goes on. I wasn't a big fan of the pretzels used in the above pic however. They turned a little soft & I didn't like the texture. Of course, the dip is also good eaten with a spoon!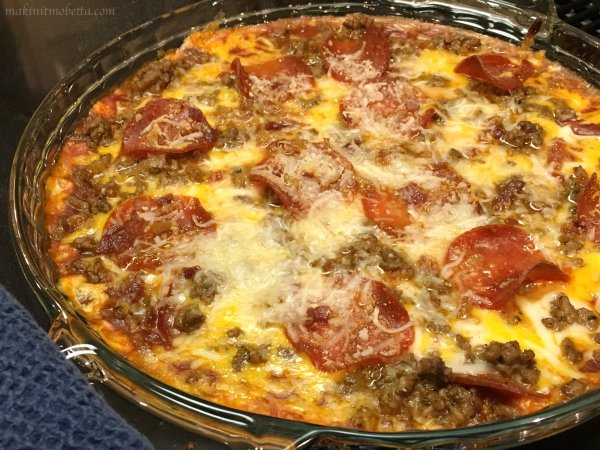 Ingredients
1 (8 oz) package cream cheese
½ cup sour cream
1 tsp oregano
¼ tsp garlic salt
1 (14 oz) jar pizza sauce, (or homemade)
1/4-1/2 pound lean ground beef, cooked & crumbled (I added oregano, garlic powder & onion flakes while cooking)
Pepperoni (desired amount; turkey pepperoni is less fat/grease); divided
1 cup mozzarella cheese, shredded
1/2 cup cheddar cheese, shredded
Bacon pieces (desired amount)
Chips/bread/etc for dipping
Instructions
Preheat oven to 350 degrees.
Mix together cream cheese, sour cream, oregano, and garlic salt in a medium sized bowl until blended.
Spread cream cheese mixture evenly into a 9 inch pie pan.
Top cream cheese with pizza sauce.
Sprinkle ground beef and a few pepperonis on top of sauce.
Bake for 10 minutes, uncovered.
Remove from oven and top with cheeses, additional pepperoni, and bacon pieces.
Bake for 8-10 minutes longer, or until cheese is melted and bubbly and pepperonis are beginning to crisp and brown.
http://makinitmobetta.com/pizza-dip/
Recipe adapted from Belle of the Kitchen and my Pizza Casserole
As you can see, the amounts and ingredients are very versatile. Anything you like on pizza will probably work well in this dip. Feel free to add more or less meat, cheese, and spices.
Will you be watching the Super Bowl? Thought about what food you will be serving? That is the most important part, right?
I may be linking up at any of the following – (Monday) Little Miss Dexterous, The Tumbleweed Contessa, I Should Be Mopping the Floor, Huckleberry Love (Tuesday) Naptime  Creations, Memories By the Mile, VMG206, The Cookie Puzzle (Wednesday) Sew Crafty Angel, The Newlyweds Pilgrimage, Fluster Buster, Ginger Snap Crafts (Thursday) Joyful Homemaking, Miz Helen's Country Cottage, Lamberts Lately (Friday) Project Inspire, Just Us Four, Diana Rambles, The Better Baker,Close to Home, Walking on Sunshine, Vintage Chic, Daily Dish, The Diary of a Real Housewife (Sunday) My Husband Has Too Many Hobbies