I was provided with a Krusteaz Holiday gift pack to facilitate this post. All opinions expressed are my own.
My Christmas baking list is quite long (shortbread, gingerbread, fudge, sausage balls, and so much more!) & I have been in a cookie baking frenzy. Well, I was. Until my 7 year old had a terrible asthma flare up that has been going on for weeks now. Several doctor visits, multiple medications, and let's not forget – NO SCHOOL. I have three kids, and one of them is not in school with only a couple more weeks till Christmas! Do you see where I'm going with this?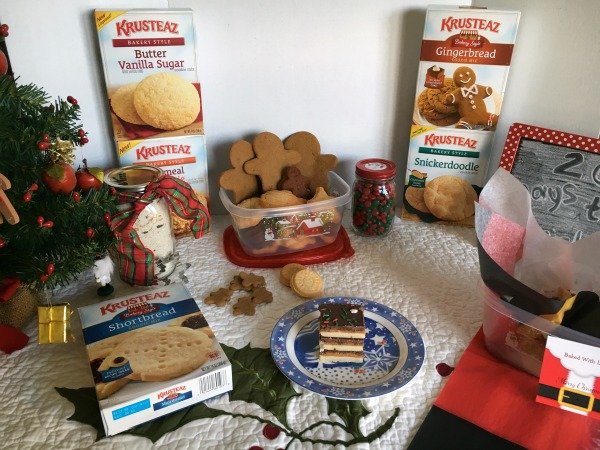 BUT, there is one thing I do not need to panic over, and that's the holiday treats. With the help of Krusteaz Cookie Mixes, we can have all the fun Christmas cookies, without all the time & effort on my part. Not to mention, I don't have to stress over gift giving. I have a few options to share that will help you if you are short on time this holiday season as well. And seriously, is there ever enough time?!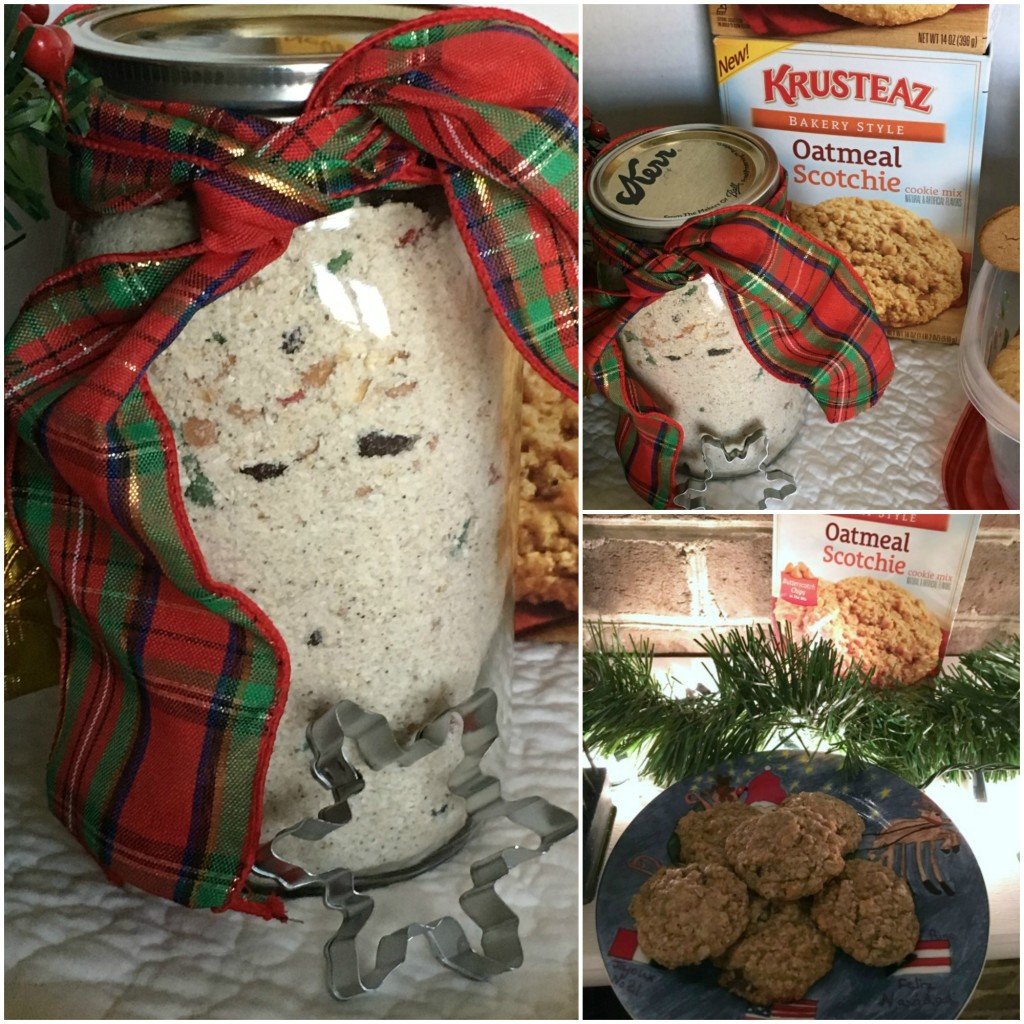 Food gifts do not always have to be prepared ahead of time. Many people have lots of goodies on hand during the holidays, so packaging up mixes that can be easily prepared later is a fun gift. You can mix up a homemade cookie mix, or you can save yourself some time and package up a Krusteaz mix. Just place in a mason jar (because everything looks cute in a mason jar) add a bow and some instructions on how to bake! I added red, green & chocolate chips to the above jar of mix. You could also layer the chips in the jar with the mix. (Provided you don't start layering, then knock the jar over so that they get mixed up. Not that I would know about that. *ahem*)
You can also add some Hot Chocolate Mix, because we all know hot chocolate goes great with cookies!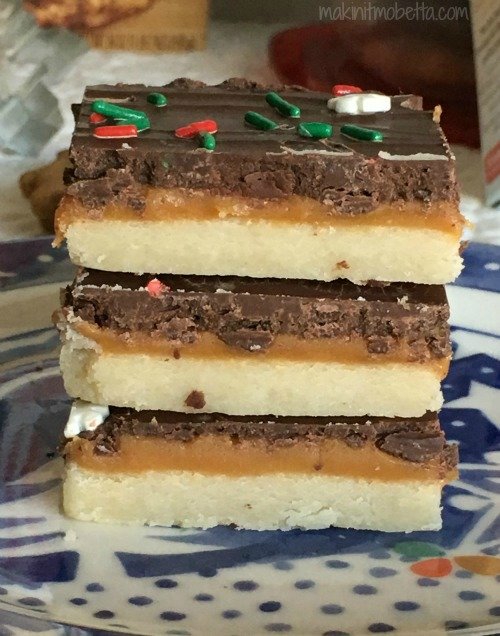 On the other hand, baking up treats to take to a friend, neighbor, teacher, etc. is always fun too. Save yourself some time with shortcuts, like using Krusteaz Shortbread Mix to make these yummy Chocolate Caramel Shortbread Cookie Bars!
For these time saving sweet treats, simply mix up your Krusteaz Shortbread Mix per directions on back of box. Choose what size pan you'd like to use…the bigger the pan, the thinner the shortbread crust. I used an 8 x 11. Bake according to package directions or until baked through (shortbread doesn't brown very much, so you can use the toothpick trick). Once done, add melted caramel (this could be homemade, or store-bought caramels), I'm all about short-cuts so I used a bag of caramel bits, melted per directions on bag. Carefully, pour hot caramel over warm shortbread. All bars to cool just until caramel starts to set but bars are still warm. Top with a bag of semi-sweet chocolate chips. As they sit on the warm caramel they will soften. Simply spread the soft chips to form a chocolate layer. Top with sprinkles if desired. Allow bars to completely cool and then cut into bars.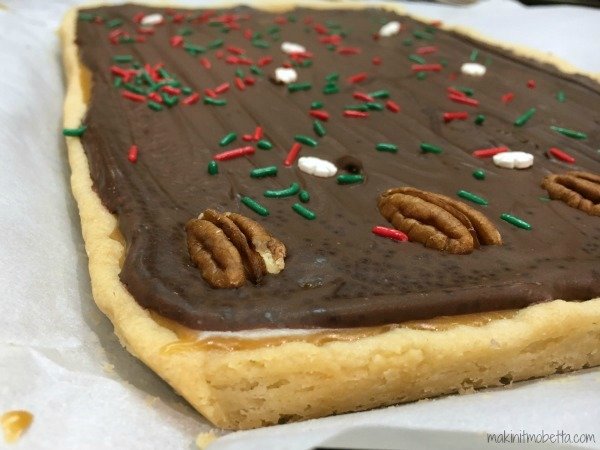 You could also add nuts. I added just a few to one end, since my son is allergic.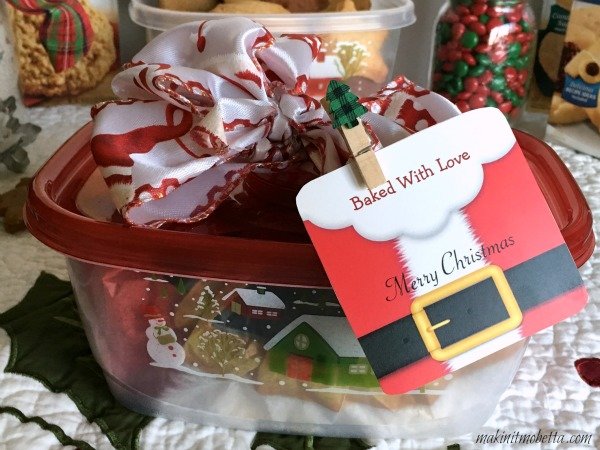 Package your treats in a food safe container, lined with festive tissue paper and a cute tag! My tags & tissue paper came from Zazzle.com, and the little tree clips and plastic container came from Target.
Krusteaz & I would like to help decrease your holiday stress level as well! We have a huge cookie prize pack to giveaway! It includes: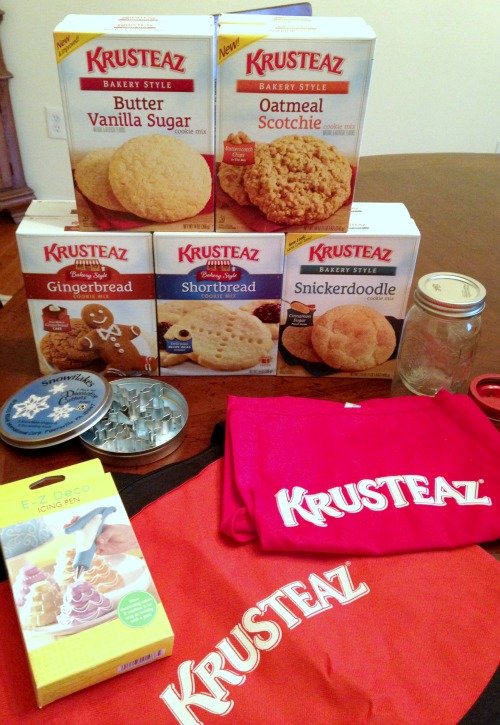 Two boxes of the following mixes: Shortbread, Gingerbread, Snickerdoodle, Butter Vanilla Sugar and Oatmeal Scotchie

Some fun holiday baking items like an apron, tote bag, cookie cutters, frosting decorating pen and a mason jar (for gifting and storage!)

Holiday cookie recipe ideas for inspiration
Please enter via the rafflecopter form. This giveaway ends soon so that we can (hopefully!) get the winner their cookie prize pack before Christmas (No guarantee on that.) Open to US residents, 18 years or older.
a Rafflecopter giveaway
I may be linking up at any of the following – (Monday) The Tumbleweed Contessa, The Dedicated House, Skip to my Lou, I Should Be Mopping the Floor, Huckleberry Love (Tuesday) Naptime  Creations, Memories By the Mile, VMG206, The Cookie Puzzle (Wednesday) The Newlyweds Pilgrimage, Fluster Buster, Ginger Snap Crafts, Naptime is My Time, Tessa the Domestic Diva (Thursday) Joyful Homemaking, Miz Helen's Country Cottage, Lamberts Lately (Friday) Project Inspire, Just Us Four, Diana Rambles, The Better Baker,Close to Home, Walking on Sunshine, Vintage Chic, Daily Dish, The Diary of a Real Housewife