This wine jelly is perfect for the holidays. Or any day in my opinion. It can be served at brunch with croissants, etc. or it can be served over cream cheese with crackers for a nice appetizer.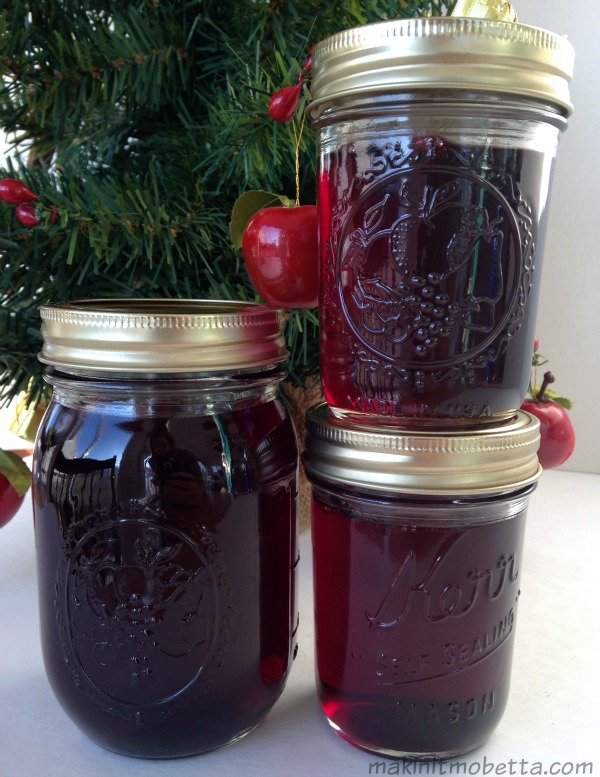 It's relatively easy to make and you can use red or white wine. Another plus is that you can use cheap wine, no need to use anything expensive. So, cheap and easy. The way I like it. *ahem* I'm talking about recipes of course.
Ingredients
3 1/2 cups wine (I used Merlot)
1/2 cup lemon juice
1 box dry pectin (my box was 1.75 oz.)
4 1/2 cups white sugar
Instructions
Bring wine, lemon juice and pectin to a boil in a large pot, stirring frequently.
Add sugar, stir until dissolved.
Bring to a rolling boil, and boil hard for 1 minute, stirring constantly.
Remove from heat. Skim foam off top if needed.
Add hot wine to sterilized mason jars, leaving 1/2 inch space at top.
Put lids on jars and process in water bath for 5 minutes.
Remove from water bath and let cool for 24 hours.
Recipe Management Powered by
http://makinitmobetta.com/wine-jelly/
Recipe Source:
This makes a nice gift for the holidays, and I loved the flavor. I look forward to making it again, experimenting with different wines.
This post was featured at:
I may be linking up at any of the following – (Monday) , , , , (Tuesday) ,, , (Wednesday) , , , , (Thursday) , , (Friday) , , , ,, , , ,