Yes, I'm still alive! I know it's been three weeks since I've posted anything, but as usual, it's been busy around here. The kids may be out of school for summer vacation, but it sure hasn't slowed down much. We've still been going strong with sports…the long days of summer when we complained of how bored we were have disappeared for today's youth it seems. At least for mine!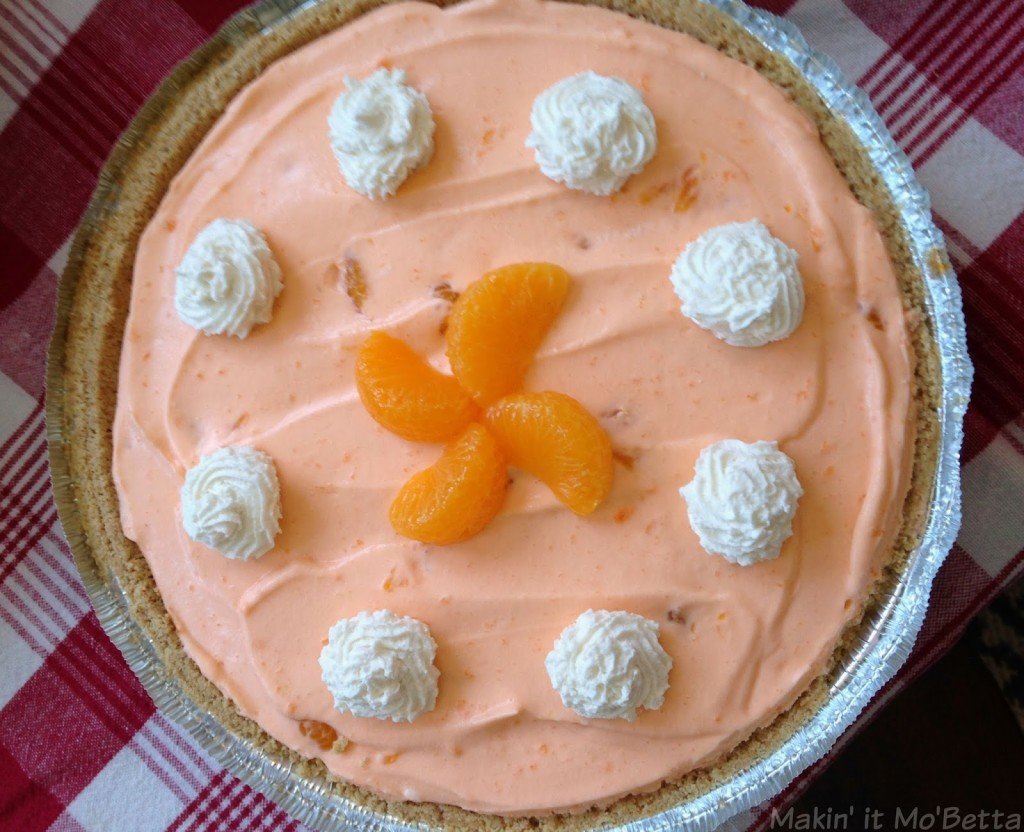 However, in the midst of practices, tournaments, and camps we have still found time to enjoy some fabulous desserts. I will always have time for dessert. This Orange Creamsicle Pie is perfect to have during this hot summer weather. It's cool, light, and refreshing with it's creamy orange flavor that will take you back to hot summer days eating frozen orange pops with the white ice cream center. With this pie however, you don't have to worry about it melting down your hand, leaving it sticky, and no wooden sticks to contend with! (Is it just me, or does anyone else hate the flavor you get next to the wooden stick on a popsicle? It always grosses me out.)

We loved the orange, but you could make other variations by changing out the jello flavor and fruit I'm sure. Also, I made my whipped cream (it's so easy!) but you could use Cool Whip if desired. I went with a store bought graham cracker crust, but you could easily make your own there too.
Ingredients
1 box orange flavor Jello
1/4 cup boiling water
2 containers of orange yogurt (I used Yoplait Light Orange Creme)
3 cups homemade whipped cream or 1 (8 ounce) tub of Cool Whip
1 cup mandarin oranges (drained)
Graham Cracker Pie Crust - storebought or homemade
Instructions
In a large bowl, mix jello packet with boiling water. Stir to dissolve.
Whisk yogurt and whipped cream into jello.
Chop mandarin oranges into halves or thirds, reserving a few for top of pie if desired.
Add oranges to pie mixture. Pour into prepared crust.
Allow pie to set in refrigerator. (I made mine the night before serving)
Top with remaining mandarin oranges and additional whipped cream if desired, before serving.
Recipe Management Powered by
http://makinitmobetta.com/orange-creamsicle-pie/
Other "no bake" pies you might enjoy:
2- Ingredient
I may be linking up at any of the following – (Monday) ,
,
,
,
,
(Tuesday) ,
,
,
,
,
,
(Wednesday)
,
,
,
,
(Thursday)
,
,
(Friday)
,
,
,
,
,
,
,
, ,