For those of you watching your carb intake, cauliflower can be used as a decent substitute for potatoes in some dishes. I say 'decent' because I don't really like cauliflower but have been successful (and sometimes not so successful) in using it in the place of potatoes for a low carb side dish and my favorite way to eat it….as pizza crust!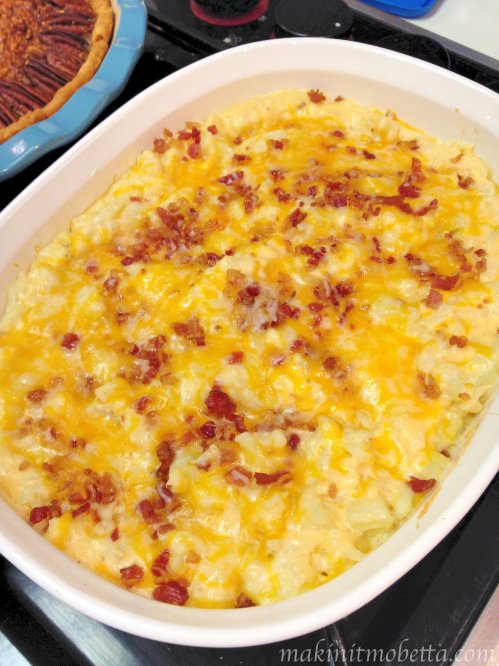 For Thanksgiving, I knew my low-carbing, diabetic husband would have a lack of options for sides, since he would not be eating the awesome stuffing, or the potatoes. (I think we had rice too!) So I made this cauliflower casserole and included lots of cheese-y goodness, and bacon. Because we know bacon makes everything mo'betta.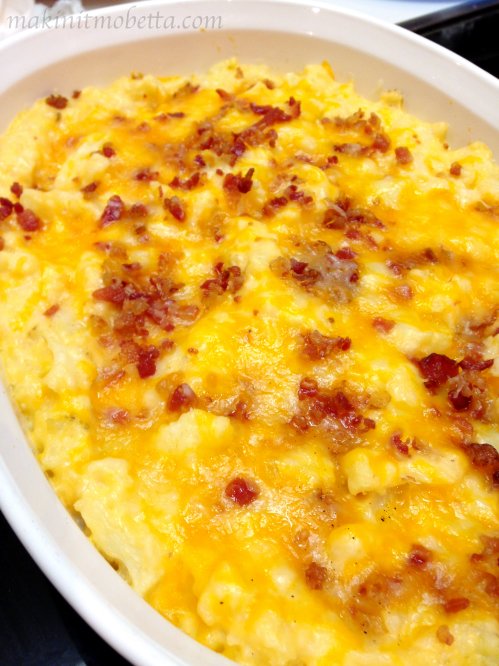 Did it taste like a loaded baked potato? No. It tasted like cooked cauliflower with cheese and bacon. However, it wasn't bad for us non-cauliflower people and it was down right tasty to those who like it (aka my mom. The only one out of the 10 of us.) But, it gave my husband a low carb option, so my job was done.
Loaded Cauliflower Casserole
Ingredients
1 head cauliflower, boiled until soft*
6 ounces Colby & Monterey Cheese Blend
4 ounces Gouda (plus extra for topping)
4 ounces cream cheese, softened
5 Tablespoons (or approx 1 1/2 ounces) chopped bacon (I used Oscar Mayer Selects Real Bacon Bits, no nitrates/ites added) Plus extra for topping, if desired.
1/4-1/2 teaspoons onion or garlic powder
salt & pepper, to taste
*I boiled my cauliflower in chicken broth for extra flavor
Instructions
Heat oven to 350 degrees F.
Add cooked, drained cauliflower to large bowl. Mash with a potato masher until desired consistency is achieved (I left small chunks.)
Add remaining ingredients to the bowl, except for cheese and bacon that you will be topping the casserole with. Stir to combine. Add salt & pepper if desired.
Place in a greased casserole dish (8 x 8, 9 x 9 or 2 quart), top with additional cheese and bacon. (I think French Fried Onions would be a good addition to.)
Cover with foil and bake approximately 20 minutes. Remove foil and bake and additional 10-15 minutes or until cheese is melted and casserole is bubbly.
http://makinitmobetta.com/loaded-cauliflower-casserole/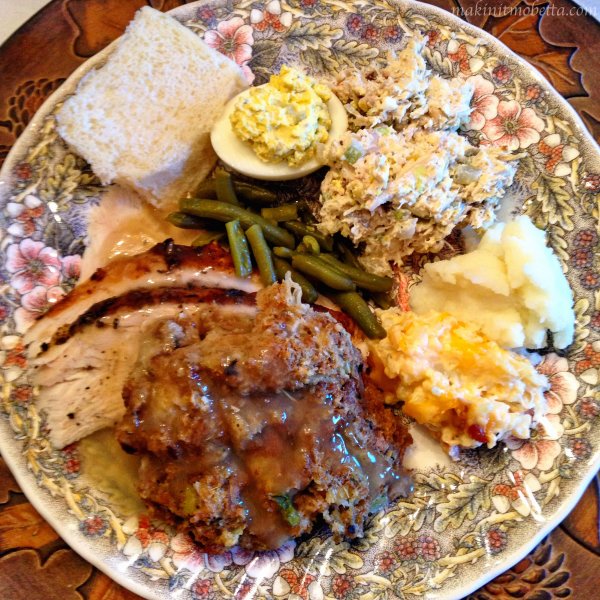 This. This is how you do Thanksgiving. And this (in conjunction with cookies, fudge and egg nog) is why I need to be at the gym right now.
I may be linking up at any of the following – (Monday) The Tumbleweed Contessa, I Should Be Mopping the Floor, Huckleberry Love (Tuesday) Naptime  Creations, Memories By the Mile, VMG206, The Cookie Puzzle (Wednesday) Sew Crafty Angel, The Newlyweds Pilgrimage, Fluster Buster, Ginger Snap Crafts (Thursday) Joyful Homemaking, Miz Helen's Country Cottage, Lamberts Lately (Friday) Project Inspire, Just Us Four, Diana Rambles, The Better Baker,Close to Home, Walking on Sunshine, Vintage Chic, Daily Dish, The Diary of a Real Housewife