I know it's taboo to post sugar the first week of the new year, with everyone on the diet train and all, but since it's the SECOND week in January…I think we all deserve a treat for making it this far. Am I right, or am I right?! First, I have to admit that I'm am so not a vanilla person. I will choose chocolate every time. Or maybe lemon. But never vanilla. However, my daughter had a friend over recently and it was the little girl's birthday. Me, being the awesome mom that I am (so says I), offered to bake a cake. The girl requested vanilla. I was like "huh?" She said she didn't like chocolate. So I made her leave. Just kidding…but seriously?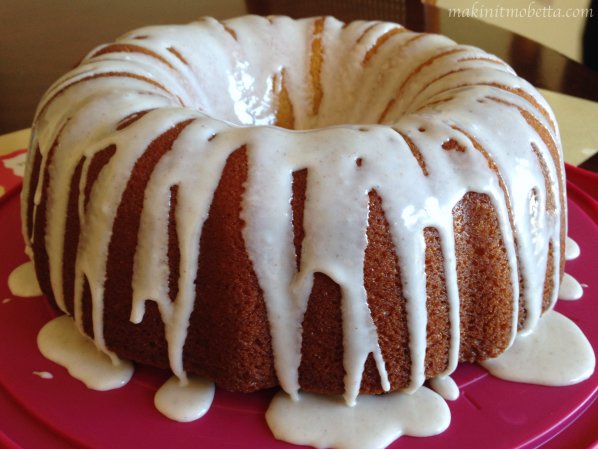 Well, I may just be a vanilla convert. I never knew the quality of the vanilla would make such a difference. I mean, you usually only add a teaspoon or so to baked goods, so what's the big deal right?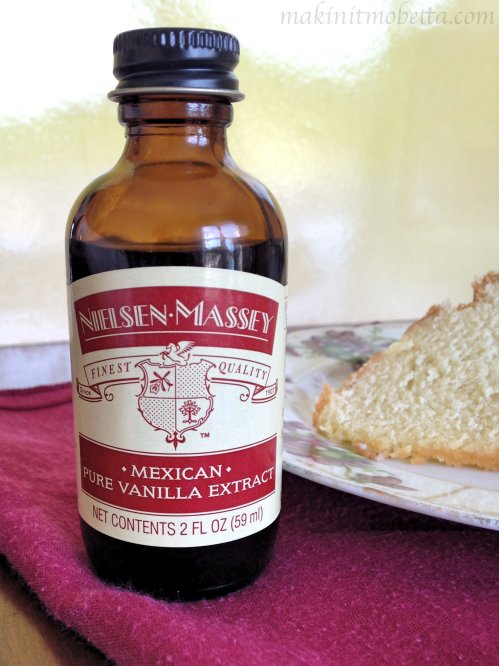 It makes a difference. Trust me! I was sent some Nielson-Massey Mexican Vanilla to sample and used it in this cake…it was so good! Granted, the predominant flavor of this cake, is in fact, vanilla. So it would make sense that a good quality extract would up the yumminess factor.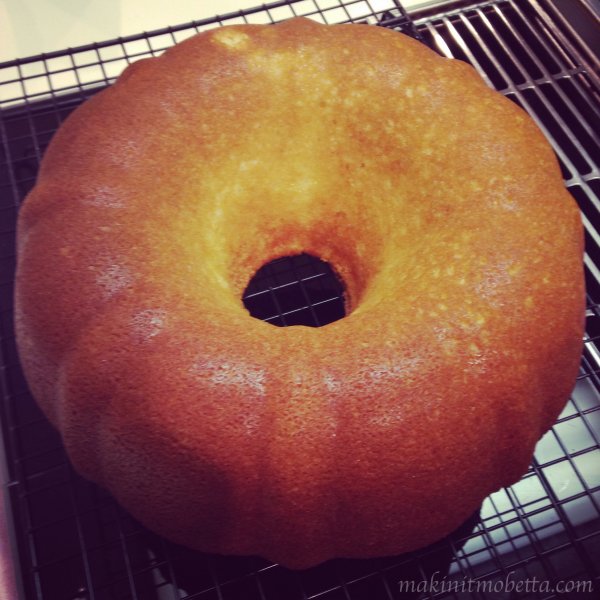 The cake itself is lighter than a traditional pound cake, but still nicely dense. It has a good flavor and would be excellent with a chocolate ganache, lemon glaze, or pretty much anything you want to top it with. It's even good plain!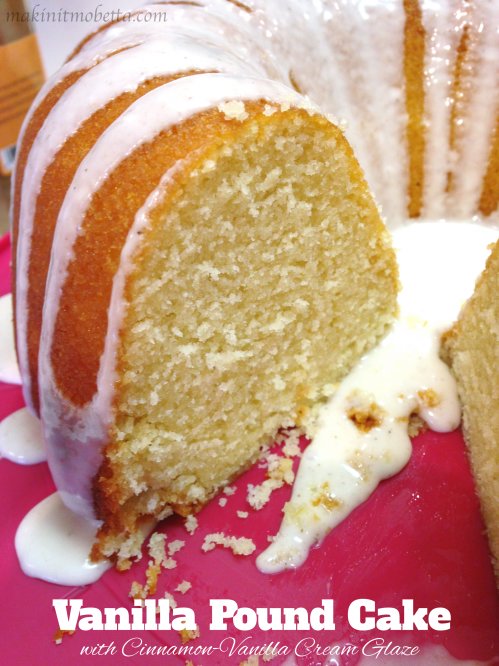 I decided I would go all-out vanilla, and added vanilla cream glaze, with a little cinnamon.
Vanilla Pound Cake with Cinnamon-Vanilla Cream Glaze
Ingredients
3 cups all-purpose flour
1 teaspoon baking powder
1/2 teaspoon baking soda
1/2 teaspoon salt
2 cups sugar
3/4 cup butter, softened
1 teaspoon vanilla extract
3 eggs
1 1/3 cups buttermilk (I used 2 T. vinegar, plus enough milk to make 1 1/3 cups; let sit for 5-10 mins.)
*GLAZE:
1-2 cups confectioners sugar
2 teaspoons vanilla
1/2 teaspoon cinnamon (or to taste)
Enough cream (heavy cream or half and half; milk can also be used) to reach desired consistency. Start with a tablespoon and add teaspoons as needed. If it thins too much, add more powdered sugar.
Instructions
Preheat oven to 350°. Coat bundt pan with cooking spray.
Whisk together flour, baking powder, baking soda, and salt in medium size bowl.
Beat sugar, butter, and vanilla together in a mixing bowl at medium speed until light and fluffy.
Add eggs, 1 at a time, beating well after each addition.
Add 1/3 of the flour mixture and 1/2 the buttermilk to mixing bowl, stirring until incorporated. Add another 1/3 of flour & remaining buttermilk, stir. Add remaining flour. Stir until combined.
Pour batter into prepared bundt pan.
Bake for 50-60 minutes or until a toothpick inserted in the center comes out clean.
Cool in pan for 10 minutes on a wire rack, then remove from pan to finish cooly.
Allow to cool before glazing.
http://makinitmobetta.com/vanilla-pound-cake-with-vanilla-glaze/
Recipe Source: Cooking Light
So what are you…a chocolate or vanilla person? Or lemon, or strawberry….we can still be friends.
I was provided a sample of the Nielsen Massey vanilla mentioned in the post but was not compensated nor obligated to right about them. All thoughts expressed are my own. 
This Vanilla Pound Cake was featured at the Moonlight & Mason Jars Party, Miz Helen's Country Cottage, and chosen as a host favorite at Daily Dish Magazine!
I may be linking up at any of the following – (Monday) Little Miss Dexterous, The Tumbleweed Contessa, I Should Be Mopping the Floor, Huckleberry Love (Tuesday) Pocket Change Gourmet, Naptime  Creations, Memories By the Mile, VMG206, The Cookie Puzzle (Wednesday) Sew Crafty Angel, The Newlyweds Pilgrimage, Fluster Buster, Ginger Snap Crafts (Thursday) Joyful Homemaking, Miz Helen's Country Cottage, Lamberts Lately (Friday) Project Inspire, Just Us Four, Diana Rambles, The Better Baker,Close to Home, Walking on Sunshine, Vintage Chic, Daily Dish, The Diary of a Real Housewife (Sunday) My Husband Has Too Many Hobbies