If you saw my yesterday, you know that I am now the proud owner of a Cuisinart Ice Cream Maker. It's a countertop model that is electric, requires no salt or ice, and makes ice cream scary fast. Like homemade ice cream in 20 minutes fast. It's awesome.
I *needed* some ice cream to go with these red velvet brownies my daughter made (from a box) and coffee ice cream was calling my name. I whipped up this recipe using sweetened condensed milk (because I love that stuff), let the mix chill for a couple of hours, and then made ice cream
for
before dinner.
And I just happened to have red, white, and blue MandM's on hand. #candyhoarder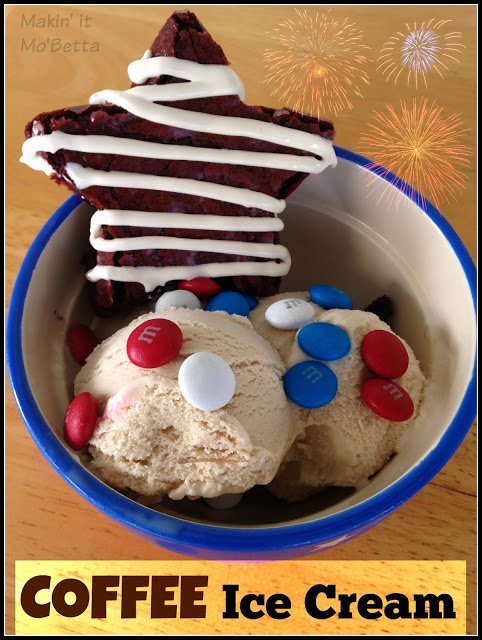 Coffee Ice Cream
1 cup strong brewed coffee, cooled
1/2 cup heavy cream
1/2 cup milk (I used 2%)
1 can sweetened condensed milk
1 teaspoon vanilla extract
Whisk together all of the ingredients and chill for 1-2 hours (or overnight). Place mixture in ice cream maker and run per manufacture's instructions. Mine produced a firm soft serve texture initially, and then I placed it in the freezer over night. The result was firm, "scoopable" yet creamy ice cream.
Happy 4th of July! God Bless the USA!
I may be linking up at any of the following – (Monday) ,
,
,
,
,
(Tuesday) ,
,
,
,
,
,
(Wednesday)
,
,
,
,
(Thursday)
,
,
(Friday)
,
,
,
,
,
,
,
, ,