Truffle fries. WHERE have you been all my life?! I'm forty…something…and have just recently tried them. And I owe it all to Lay's potato chips. Seriously! You know how they've chosen ideas from people and made limited quantities of that flavor chip…then people vote on their favorites and it gets added to the potato chip line? Well, you may or may not know that one of the flavors was West Coast Truffle Fries and I decided to try them. Honestly, I wasn't all that impressed with the chip. However, it got me curious about the elusive truffle oil (ordinarily I avoid all things mushroom related) but decided this needed to go on my Foodie Bucket List. Do you have one? I know some of you do…I'm lookin' at you !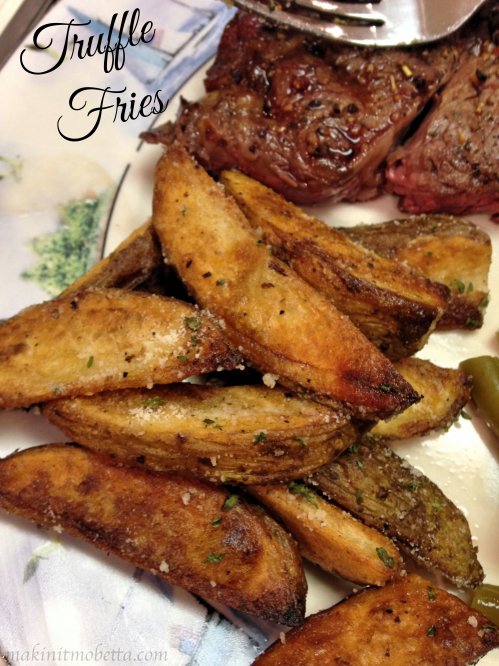 I've made these a couple of times, and somehow, this is my only picture. (I lost a bunch of pics when my previous computer died.) The picture looks better on . I'm sure these are not restaurant quality truffle fries, nor do I have expensive truffle oil (mine is a blend that I got from TJ Maxx), but…it's SO GOOD! I plan on making more this week!
[amd-zlrecipe-recipe:13]
Recipe adapted from
Even though I will not eat mushrooms (truffles are a type of rare mushroom for those of you wondering why I keep referring to mushrooms), I am all about some truffle oil now!
Have you tried these before? Are you Team Mushroom?
I may be linking up at any of the following – (Monday) , , , (Tuesday) ,, , (Wednesday) , , , (Thursday) , , (Friday) , , , ,, , , , (Sunday)